Building Community Support for Diabetes Care
Open Door Health Center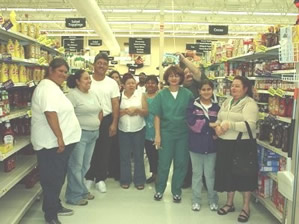 1350 SW 4th Street
Homestead, FL 33030

www.opendoorhc.org


Open Door Health Center (ODHC) is a free clinic that provides primary health care, diagnostic and education service for the uninsured poor in the Homestead/Florida City area. Almost half the population of this rural community is Hispanic and primarily from Mexico. Other immigrant groups include Haitians, people from the English-speaking Caribbean, and indigenous peoples from Mexico and Guatemala. African Americans comprise another quarter of the local population.

A large proportion of local residents are farm workers, both seasonal and year-round residents, who do not have medical insurance and generally do not qualify for Medicaid. The conditions of poverty and demands of survival contribute to poor preventive health practices and the high incidence of hypertension, diabetes, substance abuse, mental illness, and other health problems.

The Prescription for Health Diabetes Project was a demonstration of collaboration among academia, the faith community, a local foundation, a private hospital, volunteers, and community-based organizations. In addition to providing good medical care with the help of its clinical partners, ODHC established linkages with multiple community resources. Through its membership in WeCare of South Dade, a coalition of social service providers, ODHC had connections to more than 70 different agencies representing every area of social services.

ODHC's approach gave credence to the saying, "Medicine for the poor doesn't have to be poor medicine." To positively affect diabetes self management in the target population, Prescription for Health developed the following approaches:
Multicultural Community Health Workers (CHWs) recruited from the patient population. CHWs provide peer support and culturally and linguistically appropriate diabetes education to other clinic patients. They also serve as liaisons with the community.
Group support appointments, which encourage peer support and help patients understand self management tools better. Group appointments also allow project staff to witness patient interactions and identify potential CHW candidates. Family members, friends and local community residents are encouraged to attend.
Linkages with local social service agencies, community-based organizations, churches, after school programs, media and more, which help address cultural myths and misperceptions related to diabetes. A Directory of Community Service Providers has been developed and has improved self management by increasing access to and coordination of services for the target population.
The Popular Education Method, a highly participatory learning process that starts with what a person knows and builds upon it. Popular Education views the individual as the one who is capable of identifying and solving his/her own problems. Sessions focus on identifying participants' needs and interests as they relate to diabetes and include brainstorming sessions where participants can suggest ideas for personal application.
Find out more about the Open Door Health Center in this 6 minute promotional video found on their website.
Summary
Key Interventions
Community health workers to support patients and assist project staff
Weekly diabetes group support appointments with an exercise component
Case management
Lifestyle activities such as three-times-a-week exercise, quarterly supermarket tours and bimonthly cooking classes
Quarterly "Diabetes 101" classes
Community outreach and awareness activities
Key Accomplishments
Expanded pharmaceutical program use
Partnered with "Healthier Groceries" onsite
Improved patients' knowledge of diabetes through classes and peer educators
Used the Popular Education method to help patients apply diabetes information
Lessons Learned
Improved diabetes self management in a multiethnic community is possible through innovative collaboration and cultural competence
A successful system of care for diabetes that includes self management can be created through partnerships and group support visits
Grantee Presentations
Program Materials
Program Publications