Building Community Support for Diabetes Care
Minneapolis American Indian Center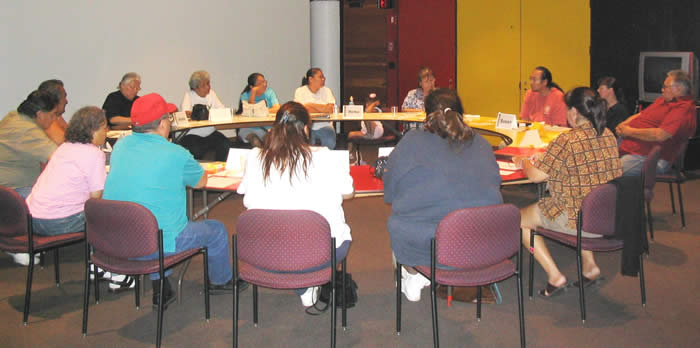 1530 E. Franklin Ave.
Minneapolis, MN 55404

www.maicnet.org/goldeneagles/diabetes.html


According to the 2000 census, the seven-county Twin Cities metropolitan area is home to approximately 34,000 Native Americans just under half of the state's 81,000 American Indian population. Not only is the community large, it also is the poorest of all ethnic groups in the Minneapolis area.

In order to provide this community with increased physical, mental, emotional and spiritual supports for diabetes care, the Minneapolis American Indian Center (MAIC) formed a strong community-clinical partnership to develop the Full Circle Diabetes Program. MAIC's Ginew/Golden Eagle Program served as the lead agency in its partnership with the Native American Community Clinic (NACC), a primary health care clinic. Recruits to the program came from the Phillips neighborhood of south Minneapolis, where both organizations were located, but services extended to the entire metropolitan area.

The MAIC recruited and engaged Native American community members living with or concerned about diabetes to form the Diabetes Community Council. This Council provided invaluable insight into the barriers of diabetes self management and the availability and accessibility of current resources. With support and participation of project staff, the Council designed community-based activities to complement and expand

resources to meet these needs.

The NACC actively supported the planning process by attending all of the Council meetings and providing expertise and consultation on diabetes care. Collectively, the partners designed and coordinated the activities of the Full Circle Diabetes Program. The symbolic Circle Model of community organizing reflected Native American culture and values, recognizing that all people contribute to the survival and vitality of a community through their individual contributions.

The Full Circle Diabetes Program focused on providing resources and supports for diabetes self management to promote physical, mental, emotional and spiritual wellness.
Physical supports included options for physical activity, regular medical care, case management, and access to medical supplies.
Mental supports—educational supports for the mind—included diabetes classes and medical case management services. A key component was goal setting, which was promoted in the program's five-weeksmall group education sessions. Participants also received educational boosters at the clinic's monthly Diabetes Breakfast.
Emotional supports included a supportive Talking Circle as well as Council-led intergenerational events.
Spiritual supports focused on the attention to culture throughout all of the activities, with an emphasis on respecting and listening to the teachings of one's ancestors to live well.
The Full Circle Diabetes Program's group activities enhanced and reinforced the individualized attention provided in the clinic. The program's resources and supports for diabetes care reinforced the Native American cultural belief that wellness results from balance of the body, mind, emotions and spirit. The Diabetes Community Council, supported by the partnership of the MAIC and the NACC, provided Native Americans in the Twin Cities area a voice and a forum to help others living with diabetes.
Summary
Key Interventions
Participatory program planning through a Diabetes Community Council
Use of a Circle Model of community organizing for designing diabetes self management activities
Case management for enrollees of the Full Circle Diabetes Program
Living in Balance chronic disease self management workshops led by trained members of the Diabetes Community Council
Key Accomplishments
Effectively engaged the community to support and participate in diabetes self management activities
Developed a fully integrated community-clinic diabetes self management program
Developed the Full Circle Diabetes Program Resource Toolkit
Lessons Learned
A Circle Model promotes holistic diabetes self management programming and enhances community capacity among Native Americans in an urban setting
Living in Balance chronic disease self management classes for people with diabetes been accepted and are successful in an urban American Indian population
Read feature article: How the Diabetes Community Council made a difference
Grantee Presentations
Program Materials
Program Publications