Building Community Support for Diabetes Care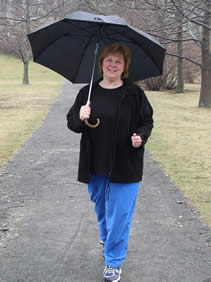 MaineGeneral Health
32 College Avenue
Waterville, ME 04901

www.movemore.org



MaineGeneral Health, a healthcare system in central Maine, is the lead agency for Move More, a project of the Building Community Supports for Diabetes Care program. The Kennebec Valley Diabetes Care Initiative Advisory Group, an inter-organizational collaborative in rural Maine, serves as a resource and in an advisory capacity to Move More.

Move More targeted adults 30-70 years of age with type 2 diabetes or pre-diabetes who were currently somewhat physically active, but who did not consistently meet CDC recommendations for 150 minutes of moderate intensity physical activity per week. The primary goal of the project was to increase physical activity in the target population. To achieve this goal, Move More aimed to increase enrollment in diabetes self management skill development programs and to facilitate achievement of physical activity and other diabetes self management goals.

The Move More project was based on the 5 P model of social marketing. The places targeted to deliver messages to potential participants were work sites, healthcare settings, faith and community settings and local newspapers. The price was the cost to participants, not only in dollars, but also in time and effort needed to change behavior. The product was the accumulation of 150 minutes of physical activity per week. Promotion consisted of strategies to make physical activity an attractive option for participants. Move More addressed policy by working with community partners to create and promote physical activity opportunities, and to promote other types of environmental change. Using this framework, Move More was designed to become a model that can be replicated in many other rural communities.

An integral component of Move More was the use of Lay Health Educators (LHEs) to implement social marketing strategies. LHEs were peer volunteers from the community, many of whom have type 2 diabetes themselves. LHEs "looked like" the enrollees. They understood the challenges of exercising with diabetes.

LHEs went through an initial one-hour training class led by project staff in which they learned the basics about physical activity and nutrition as well as how to provide nondirective support. They were taught strategies for motivating participants, answering participant questions, and making referrals to other chronic disease self management resources in the Kennebec Valley area. For example, LHEs provided participants with physical activity resources such as walking maps, pedometers and physical activity log sheets. Ongoing, optional monthly training sessions for LHEs addressed various topics related to healthy lifestyle behaviors and offered LHEs an opportunity to network with each other.

One of the strengths of the Move More project was that LHEs were given the latitude to decide how to stay in contact with individual participants. Some LHEs opted to be trained as leaders in the Chronic Disease Self Management Program and conducted classes in work sites, faith communities, and health care sites. Others used email, incidental contact in work site or community settings, and/or phone follow up. Through it all, "friendly support" was the hallmark of a good LHE.


Summary
Key Interventions
Lay Health Educators to encourage physical activity
Walking maps, pedometers and physical activity logs
Referrals to diabetes self management resources
Different social marketing message for target audience segments and delivery settings
Chronic disease self management education classes
Weekly motivational email
Web site www.movemore.org
Key Accomplishments
Used social marketing to develop intervention activities and promote behavior change
Established a network of 40 volunteer Lay Health Educators and support for them (e.g., monthly trainings, resources, web page)
Developed a replication guide designed to help other communities promote and support physical activity in their locations using the strategies and tools of the Move More project. [Read More]
Lessons Learned
Longstanding collaborative relationships provide a strong foundation for expanding or developing new programs
A social marketing strategy can be used to address the Community Resources and Policy component of the Chronic Care Model
The use of volunteer Lay Health Educators is an effective approach to promote and increase rates of physical activity in targeted audiences in the community
Grantee Presentations
Program Materials
Program Publications