Build a Program
Community Health Workers
Community Health Workers Bridge the Gap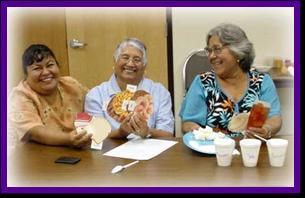 Studies have shown that people with diabetes who
incorporate self management into their lives have an
improved quality of life. One key component of many successful diabetes self management programs is the presence of a community health worker (CHW) as an ongoing resource for patients and physicians. CHWs assist with individualized assessment, goal setting, and teaching skills. They develop and maintain strong relationships with the populations they serve. They provide clients with social support that is critical to self management, including a flexible schedule that allows a greater ability to meet client needs. This trusting relationship lays the foundation for good self management. (Click here to download an overview presentation on Community Health Workers)
The Importance of the CHW
Because CHWs are immersed in the culture of those they serve, they are able to understand how a person's living environment and community influence their health behaviors and impact their access to and use of health resources.
CHWs provide culturally and linguistically appropriate outreach, follow-up monitoring, and social support. They extend and complement the efforts of the healthcare professional by empowering patients to acquire and apply self management skills that will improve disease management and quality of life in the settings of their daily lives.
CHWs are known by a number of titles, including promotores, coaches, lay health educators, outreach workers, etc. The range of activities and roles of CHWs are as diverse as their titles.
Roles and Responsibilities of CHWs in the Diabetes Initiative
Bridging cultural and language differences between community members and the health and social services systems
Providing culturally appropriate and accessible health education and information
Teaching and guiding practice of self management skills
Leading classes and activities such as exercise groups
Providing informal counseling and social support
Promoting and recruiting participants to programs and services
Follow up of progress and identification of needs for clinical care or self management education
Providing assistance in accessing health care
Making referrals
Administering health screening tests
Making clients aware of their rights
Advocating for individual and communities' needs within the health and social services systems